Author Archives:
de Kraan
Philippe de Kraan is now stocking his art cards at Mornington News Agency. More news to come! If you want see the collection online, you can find them here.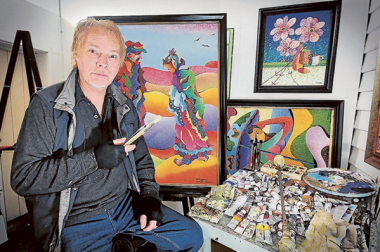 Amsterdam-born artist, Philippe de Kraan is intent on taking Mornington by storm – art storm that is. His 48th solo exhibition, A Moment in Time, was at Oak Hill Gallery in September 2015 and the streets businesses and publications of Mornington are ablaze with images of his colourful expressionist paintings. De Kraan paints with exuberant passion and […]
"A painting will always draw critics. But as far as the artist is concerned, as long as it represents the artists intention of the subject matter – the story – he intended to portray – then the public may give their own interpretation – or opinion!" "On the other hand – if the artist is […]
"Success is the best form of revenge. So put failure in a box and move on. Until something actually works for you!"
I would like to believe that at the very least I tried in my life To let myself be known. To all who would listen Being an artist was also living a life of silence. Leaving a legacy that others can only scramble with, and they will … for a hundred years!
"My art involves catching the character studies soul. It is always my first intention while creating a subject real or imaginary. It may even be my only intention – period."
"I believe a painting is not truly ready to show anyone unless it excites the artist first – if that is indeed possible. We are the critics in reality – not you!"
"We are imprisoned by our sameness to all me – but liberated by our uniqueness."
"The Vision that will glorify in your mind, the ideal that you enthrone in your heart – this you will build your life by, this you will become."